Through hard work and perseverance, Galway Bay Irish Pub opened in December of 1998. Maryland Avenue in Annapolis, sister city to Wexford City, Co. Wexford, was to be the perfect location for Michael and Anthony's concept: a traditional Dublin-style pub that would serve as the meeting center for the townspeople.

Being in close proximity to the State House, employees and politicians soon embraced Galway as a popular lunch spot.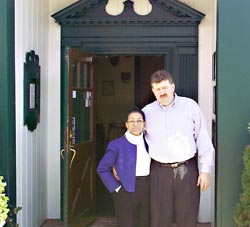 Mrs. Peggy, former employee of the Little Campus Inn, and much-loved Annapolitan, greeted every visitor as if they were family, and Galway became known as the place to see a familiar place over a pint of Guinness. Excellent, traditional pub food, smiling faces, and a jovial atmosphere is what Galway became known for. That tradition is carried on today, with Galway Bay setting the standard for the restaurants that would follow.
After the success of Galway Bay, Killarney House opened in 2001. Michael and Anthony, co-owners of the IRC, envisioned Davidsonville as the perfect spot for a rustic pub due to the area's farmlands and rolling green hills—a place that reminded them of home. The homey, pine-walled interior of Killarney House Restaurant and Pub quickly became a much-loved community spot for the residents of Davidsonville and surrounding areas—as well as for those coming from far away too. As word-of-mouth spread, visitors from all over stopped in for a pint with friends, or a home-cooked meal with family.

As a valued community meet-up, Killarney has given back to its local and global community through fundraising initiatives for local charity, international projects, and environmental initiatives, most recently installing solar panels across 80% of the roof's surface. Brain Boru opened with much anticipation in 2007. Catering to the community of Severna Park, Brian Boru serves the perfect family-friendly meal in a warm and welcoming atmosphere. Sit by the fire in the winter and relax in a rich and colorful dining room that feels like home.

The most recent addition to the IRC family, Pirate's Cove, is a local treasure. Sitting on the West River in historic Galesville, Maryland, this hopping neighborhood restaurant is also the perfect stopping point for sailors (and pirates) from afar. We have fresh seafood cuisine for the whole family in a charming nautical atmosphere. Motor on up to the dock and spend an afternoon soaking in the sun at the Dock Bar while enjoying live music and fresh oysters on the half shell.

In June 2021, Anthony Clarke and Sean Lynch discussed the history of the Irish Restaurant Company with John Frenaye of Eye On Annapolis. Listen to the podcast here: